Custom Mix Capsules
That's correct! You Heard right. You choose the herbs, we will blend them and put them in capsules for you.
80 vegetarian capsules per bottle.

Herbal mixes will be made with equal parts of the herbs chosen, unless you specify otherwise.
Also, We get fresh new herbs in weekly. So, if your herb is not listed below please email us your request, we surely may be able to accommodate.
Your capsules will be packaged in bottles with a tamper proof seal, labeled and shipped to you within 2 - 4 business days.

Currently the herbs we have in stock are: Alfalfa, Ashwagandha, Astragalus, Barley Grass, Bilberry, Bladderwrack, Burdock Root, Calendula, Cascara Sagrada, Chickweed, Damiana, Devil's Claw, Echinacea, Eye Bright, Fennel, Fo Ti Root, Ginkgo Biloba, Gotu Kola, Green Tea, Horney Goat Weed, Irish Moss, Kava Kava, Kola Nut, Maca Root, Moringa, Muira Puama, Mullein Leaf, Nettle, Olive Leaf, Passion Flower, Red Clover, Rose Hips, Sarsaparilla, Saw Palmetto, Senna, Siberian Ginseng, Spirulina, Valerian Root, Wheat Grass, Wild Yam and Yucca Root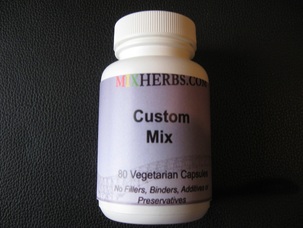 $15.99


Please Choose Up To 3 Herbs
* If you want any herbs other than the herbs below to choose from or more than 3 herbs in your capsule please send us an email to info@mixherbs.com prior to placing your order.
The following compounds and formulas are not meant to DIAGNOSE, TREAT, PALLIATE, MITIGATE, PREVENT or CURE any disease. They are used solely for purposes of restoring the human body to a glorious state of optimal health and well-being.